Did you know that Coffee Filters are the perfect base for Halloween themed crafts? Here is a list of spooky craft ideas to help you decorate your classroom.
Coffee Filter Ghosts
The coffee filter ghost is just as simple as it looks. Simply flip the coffee filter upside down and place a string through the center. Don't forget to draw on the eyes and mouth! Wiggle eyes would even look great on these fun hanging ghosts. Try using a clear string to make them look like they're actually floating!
To make the coffee filter rounded on top verses pointed, add a ball of paper or aluminum foil to the end of the string.
Coffee Filter Pumpkins
You can use water colors or washable markers to make the coffee filter orange.
This first option is perfect for little ones. Just add the stem and leaf and you have a cute little pumpkin. Try placing these on the windows to get a fun glow when the sun shines through them.
This pumpkin is a little more challenging. Place a ball of paper or tin foil in the center of the coffee filter and tie it off with string or tape. You can add a face on with felt or with markers. Easily include a stem by placing a small stick in the center.
Coffee Filters Leaves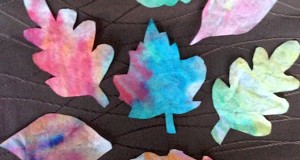 Leaves are perfect for the fall season! Have your students color their coffee filters with washable markers. When they are finished, spray them with a spray bottle of water to give them a fun, airbrushed effect. When dry, trace different leaf shapes and cut them out. These add a great splash of colors to any classroom!
Coffee Filter Bats
These guys are fun and easy to create. Start by coloring the coffee filter using markers or water colors. When dry, cut ridges around the outer edge to give the waved effect pictured above. Then add a clothes pin in the middle to create the body of the bat along with some wiggle eyes to complete the look.
Coffee Filter Spider Webs
These spider webs are made just like paper snowflakes. By folding up the coffee filter and cutting rectangles into it you can easily create this shape. Be sure to leave a strip uncut on one side to keep the sides connected.